"A PLEASURE TO DEAL WITH"
"We cannot recommend Whitman highly enough and we have sent many of our Chiswick friends their way. Not only were they the most knowledgeable agency we came across, they were a pleasure to deal with, always updating us on the sale interest and process and most importantly every single one of their sales agents came and ensured they knew our house inside out which we felt was very important and amazingly not standard amongst Chiswick estate agents. They got us a record beating price for our Glebe Estate cottage and also supported us in purchasing our next house even thought it was not one on their books. Thank you Whitman you single-handedly restored our faith in estate agents! "


Kirsty & Kevin Braine
"The best Estate Agent to choose in Chiswick"
"I want to thank Whitman & Co. for the amazing way you handled the sale of a difficult property. You knew exactly how to do it and carried me through it from start to finish! I was selling from a distance and when I needed it, you were able to suggest a solicitor and find someone to clear the property. You kept me up to date regularly. You advised me when there were decisions to make and I didn't have the experience to know what would be best. I came to you because I'd heard you were the best Estate Agent to choose in Chiswick and you certainly deserve that accolade as far as I am concerned."


Sarah Adams
"Head and Shoulders above the competition"
"Whitman is the estate agent of choice for anyone considering buying or selling in Chiswick. Consistently helpful professional, they have a great portfolio of properties with an extensive network of loyal customers, the former being great for buyers, the latter great for sellers. In just under ten years of living in Chiswick, I have now used them twice, and will certainly use them again if we stay in the area. They really stand head and shoulders above the competition."


G.K
"Helpful and Diligent"
"Mary and I would like to say how pleased we are with the professionalism of Whitman and Co not only in selling our home but also setting up our future rental home. As you know the last few weeks have been very difficult and complex but everyone has stepped up to the mark where nothing has been too much trouble. We've used other Estate Agents in the past but we can safely say that Whitman and Co has certainly been the most helpful and diligent. Thanks again for all your support."


Jim and Mary Sitch
"Professional, efficient, open and honest"
"We recently bought and sold through Whitman and Co and were hugely impressed with the levels of service we received on both transactions. Everyone who we dealt with at Whitmans were professional, efficient, open and honest with us from the start of the process until the end and beyond. Their collective knowledge of the Chiswick market is unparalleled and we wouldn't hesitate to do business with them again in the future."


Rosie Orringe
"Restored my faith in estate agents"
"I have to say that you have restored my faith in estate agents - I think I'll put it down to your/ Whitman & Co's integrity"


S. Devito
LATEST NEWS
6 Tips For Preparing Your Home For Sale

I know the last 18 months has ensured that we are familiar with every inch of our home, but try and look at your property with fresh eyes. With most property searches starting online, it is paramount that you present your home in the best possible light. First impressions count, and the images displayed may determine whether viewings are booked or not. Follow our tips to ensure your property captures potential buyer's interest with the most favourable outcome.

Dial-up your curb appeal
You'll never get a second chance to make a first impression; make it count! A lick of paint on your front door works wonders. Tidy up your front garden, sweep the path and if necessary, hire a pressure washer. Clean your windows and ledges and plant some flowers in your window boxes. Don't forget the back garden either! If you live in a flat, ensure communal areas are tidy.

Clean, clean, clean
Dust, polish, wash, repeat! If carpets are stained, get them professionally cleaned or replace them. If your wooden floors have seen better days, re-varnish them. A straightforward and affordable trick to make your bathroom gleam and look brand new is to re-grout and re-silicone. If the kitchen is looking tired new taps, cabinet and cupboard handles can make all the difference.

Let there be light!
Ask any photographer for their top tip, and they are likely to say 'light'! Light makes such a difference in a home and is free - throw open the curtains and pull up those blinds and let the light flood in. For viewings, make sure you have enough floor and table lamps to brighten up those darker areas.

Declutter
Potential buyers want to see the space available, so make your house look spacious. Box up toys and books along with excess furniture and put it in storage, leaving the garage/loft clear for viewings (it'll be fewer things to box up on removal day). We can all be guilty of the shoe and coat accumulation in the hallway and the piles of paperwork on the kitchen worktop but banish them and anything else that will be a distraction.

Fresh eyes
Detach yourself from the property and change what fresh eyes would adjust. Maybe the bright red dining room might not be to everyone's taste. Often painting walls a neutral colour allows the potential buyer to see your property as a blank canvas, making your home seem lighter and brighter. In the same vein, keep décor simple to help buyers visualise themselves in your space.

Eliminate odour!
Bad smells are one of the single biggest turn off for prospective buyers. Throw the windows open and air the rooms. Save cooking the bacon for after the viewing and instead brew some fresh coffee!

Be guided by these simple steps, and prime your property for viewings. Good Luck!
10 Fun Summer Holiday Activities!
10 Fun Summer Holiday Activities!
School's out for summer!! Here is our round-up of some of the fab stuff happening in London:
1) Buckingham Palace Gardens
Picnic like a Royal in
Buckingham Palace gardens
. Open to the public for the first time this summer.
2) Royal Air Force Museum
Get active at the
ActiveFest
, go head to head with your child in their obstacle course, or take it easy with the parent and baby yoga class. 24th July - 15th August
3) Kew Gardens
'
Theatre on Kew'
is back with Ratty, Mole, Badger and Otter.. not forgetting naughty Toad with a lively, family-friendly performance of Wind in the Willows. Also, a stunning twilight performance of Midsummer's Nights Dream can be seen in the enchanting picture-perfect gardens.
4) Kew Gardens
Saturday Science Family Learning Workshops
are running through the summer holidays between 11 am-4 pm: In these drop-in sessions, families can explore some of the more unusual plants at Kew.
5) Van Gogh Immersive Theatre
Step inside the world of
Van Gogh
in this multi-sensory immersive experience in the heart of Kensington Gardens - I have heard great things!!
6) Wetlands Centre
This is one for the Lego fans! Follow the giant
Lego animal trail
at the Wetlands. The Wetlands is always a good idea on a hot day - the water play area is the perfect place to cool down!
7) Natural History Museum
For the wizarding ones amongst us, step into the
Fantastic Beasts Exhibition
and see where the natural world and the wizarding world intertwine.
8) O2
'Up at the O2'
is calling all adrenaline junkies! 9+-year-olds can climb up and over the 02 structure whilst a guide will point out the sights - now that's a different way to see London!
9) Geocaching
In my opinion,
Geocaching
is the most fun family day - join the worlds largest treasure hunt and find these tiny containers all over your local area - SO MUCH FUN!!
10) Watermans - Brentford
Stand up
Comedy for Kids
is coming to West London - the fab family-friendly stand up comedians are putting on a show on 5th August. Also, check out the creative and inspiring workshops being run by Watermans during their 3 week
Summertime Holiday Festival.
Whatever you get up to this summer - have a great time!
Stamp Duty: What you need to know
What is Stamp Duty?
Stamp duty land tax must be paid if you buy a property or land over a specific price in England & Northern Ireland. (The tax is different if the property or land is in Scotland or Wales). The threshold is where stamp duty starts to apply; if you buy a property of less than the threshold, there is no stamp duty to pay. If you're purchasing a residential property, there are different rates of stamp duty if:
You're a first-time buyer
You already own a property and are buying a second residence
You're not a UK resident
(Please check out
gov.uk
for more details)
You have 14 days from the date of completion to pay your stamp duty, or you could face a fine. If you have a solicitor, agent or conveyancer, they'll usually file your return and pay the tax on your behalf on the day of completion and add the amount to their fees.
Stamp Duty Holiday - What is involved:
Initially, the stamp duty holiday was set to end on 31st March, with the temporary threshold set at £500,000; this is now in place for a matter of days until the 30th June. Then to smooth the transition back to normal, the stamp duty threshold from the 1st July 2021 will be £250,000 and will return to the standard threshold of £125,000 on 1st October 2021.
The stamp duty holiday has impacted the property market significantly: According to recent data from the UK's leading property portal Rightmove, there are 704,000 sales currently going through the conveyancing process across Great Britain, the highest over the past decade.
As we approach the end of the stamp duty holiday, we are noticing that
properties in the price bracket of 500k-700k face the most significant impact with stamp duty doubling and, in some cases, tripling:
£500k property sold before 30th June '21 would pay £0 stamp duty and from the 1st July would pay £12,500.
£600k property sold before 30th June '21 would pay £5k stamp duty and from the 1st July would pay £17,500.
£700k property sold before 30th June '21 would pay £10k stamp duty and from the 1st July would pay £22,500.
In this price bracket, we find that the increased stamp duty can impact the buyer's deposit (the extra money for stamp duty is taken off the deposit - a smaller deposit = a smaller mortgage).
We are also finding that buyers who were willing to buy a property that needed a bit of TLC during the stamp duty holiday were happy to do so because the £12k saving would go towards a new kitchen/bathroom, but without that saving the property becomes less desirable/affordable.
Estate agents come into their own during these times because they have an intimate understanding of each price range. As Chiswick's number one agent, we can offer the best advice to both sellers and buyers. Due to the sheer volume of sales we do, we're in a place to understand pricing street by street and property by property. This means our vendors get detailed market-leading advice on how to sell for the best possible price, and buyers respect our valuations.
We have noticed that with property sales at £1.5 million and above the stamp duty change is having minimal impact. Tim Bannister, Rightmove's Director or Property Data states: 'The easing of restrictions, extended stamp duty holiday, better mortgage availability for first-time buyers, race for space and relocation plans have all combined to create the biggest conveyancing logjam we've ever recorded over the past ten years. We really hope those who had at least four months to make it through to completion will make it in time to beat the first stamp duty deadline, but with the tapering until September many will still make some savings so all will not be lost. The pace of properties coming on and off the market is also the quickest we've recorded, and agents are telling me they have multiple viewings followed by a number of offers within days of a property first appearing on Rightmove. At the start of this year we had anticipated a quieter second quarter of the year. Still, buyer demand and the pipeline has continued at pace, making it an incredibly busy time for agents and conveyancers in many areas right now.'
If you would like property advice, please do get in touch, and our award-winning team will be more than happy to help: 02087478800.
Buyers Frequently Asked Questions
Are you in the market to buy a property? We've put our heads together and have collated and answered the most commonly asked questions by 'buyers':

What is the vendor's position?
This is a straightforward but critical question. A buyer's primary concern is how quickly they can move into the property. In most cases, people move up or down the property ladder, and you would generally expect an onward chain. Of course, the ideal buyer scenario is a chain free property.

Do I need a mortgage agreed in principle to make an offer?
Although it is always beneficial for a broker or lender to have looked at your financial criteria, it isn't essential.

If I'm not under offer and want to make an offer, will I be taken seriously?
It's always good to show your intention as a buyer, but we wouldn't recommend a vendor accepting the offer until you are under offer. With this said, on the odd occasion, a vendor may give the buyer a period of grace to go under offer.

Has COVID-19 impacted the property market in Chiswick?
YES! There is a huge demand for family homes, with many people choosing to upgrade their primary residence. This is due to several factors; a primary reason is that working from home long term has meant that families need more space. The market has been more challenging for flats, but the market has seemingly recovered.

Is now a good time to buy?
YES! It's a great time to take advantage of historically low interest rates. Chiswick is a desirable, thriving community 25 minutes from Central London. Bricks and mortar are a solid investment.

Should I get a survey?
A survey is intended to be a detailed inspection of a property's condition and is very useful to help you avoid expensive surprises. There are different levels of surveys, both in detail and price, as outlined below. Depending on the property, a new build v's a house with subsidence our advice for which survey to choose would vary.

Mortgage valuation: This is a simple valuation for the bank to satisfy the lender that the property is worth the figure the sale is agreed at. This survey will flag any significant issues, or a further survey report recommended. The surveyor will look at comparable sales within the area before finalising his report.

Condition report: This is the most basic survey looking at the condition; it is designed to complement the mortgage valuation. It provides 'traffic light' indications of the state of the property. Green means it is satisfactory, yellow there's cause for concern and red shows serious repairs are vital. It does not include advice or a valuation.

HomeBuyers Report: This is a more detailed survey that includes a valuation and an insurance reinstatement value (how much you would receive if the property were to burn down). However, the survey isn't intrusive, so they wouldn't look behind furniture, lift floorboards or drill holes.

Building Survey: These are expensive but worth it if you're buying a very old, unusual, listed or timber-framed property. These are also good if you are going to be doing some serious building works. The surveyor would look in the attic, behind walls, between floors and above ceilings and provide advice on repairs, prices and timings. However, it probably wouldn't include an insurance reinstatement value estimate or a market valuation unless specified.

Have there been any offers?
This is a valid question. Is there a reason why a property hasn't had any offers? If there have been offers, you can work out what has been rejected and potentially gauge the vendors' expectations of the price. As agents, we're employed to get the best possible result for our clients (the vendors). It doesn't necessarily mean the highest offer should be accepted. Factors such as flexibility on timeframes, cash/mortgage ratio, chain details etc., are all considered.


Any other questions? Give us a call, and we will be more than happy to answer them 020 8747 8800.


Cheesewick
"Green spaces and a laid back feel have seen demand for homes in Chiswick rise during lockdown." Liz Rowlinson, wrote recently in the FT.


At Whitman & Co, this has undoubtedly been the case. This year, we have registered 729 new buyers and have agreed 43 sales. The average asking price achieved is 99.98%, which makes for a happy office and delights vendors! The majority of sales agreed in March have gone to sealed bids and sold over the asking price. So the property market in Chiswick is indeed buoyant.

There are, of course, several reasons why people move house. But Liz Rowlinson has hit the nail on the head when she speaks about Chiswick attracting families looking for green spaces and a laid-back feel 20 minutes from the West End (oh, the joy that awaits us when the West End reopens!).

Chiswick is appealing in many ways; it has always had a vibrant and bustling high road peppered with interesting independent businesses. Most recently, the introduction of the hugely successful monthly Flower Market has enticed visitors and locals alike. I'm excited to say that the Chiswick market continues, this time in the shape of a monthly Cheese Market.

The Cookbook Kitchen is bringing cheese back to Chiswick or Cheesewick as it was historically known - with a monthly cheese market on the third Sunday of every month. (From May if Covid restrictions allow) Did you know until the 18th century, there was an annual cheese fair on Dukes Meadows, hence its original name Cheesewick which derives from 'cheese farm'.

The Cookbook Kitchen is a group of 10 professional women who have strong ties to the local area and care deeply about the future of Chiswick. Amongst their ranks of dedicated foodies and passionate cheese consumers, they have restaurateurs, chefs, cooks, caterers and cookbook authors. A pretty fine line up if you ask me!

The market will represent all the very best cheeses from Britain and beyond and bring the wonder of well-crafted cheese to Chiswick. Such an excellent addition to Chiswick will attract more visitors to our wonderful pocket of London. Perhaps they, like so many others before them, will fall in love and want to put down roots.

We would love to speak to anyone who is considering a property move in Chiswick. As Chiswick's number one agent, we can offer the best advice to both sellers and buyers. Due to the sheer volume of sales we do, we're in a place to understand pricing street by street and property by property. This means our vendors get detailed market-leading advice on how to sell for the best possible price, and buyers respect our valuations.






International Women's Day
International Women's Day
As has become tradition, in light of International Women's Day, Whitman & Co will celebrate two talented, inspiring and fabulous local women: Both ladies live and work in Chiswick and, in doing so, enrich our community.
Juliet Kane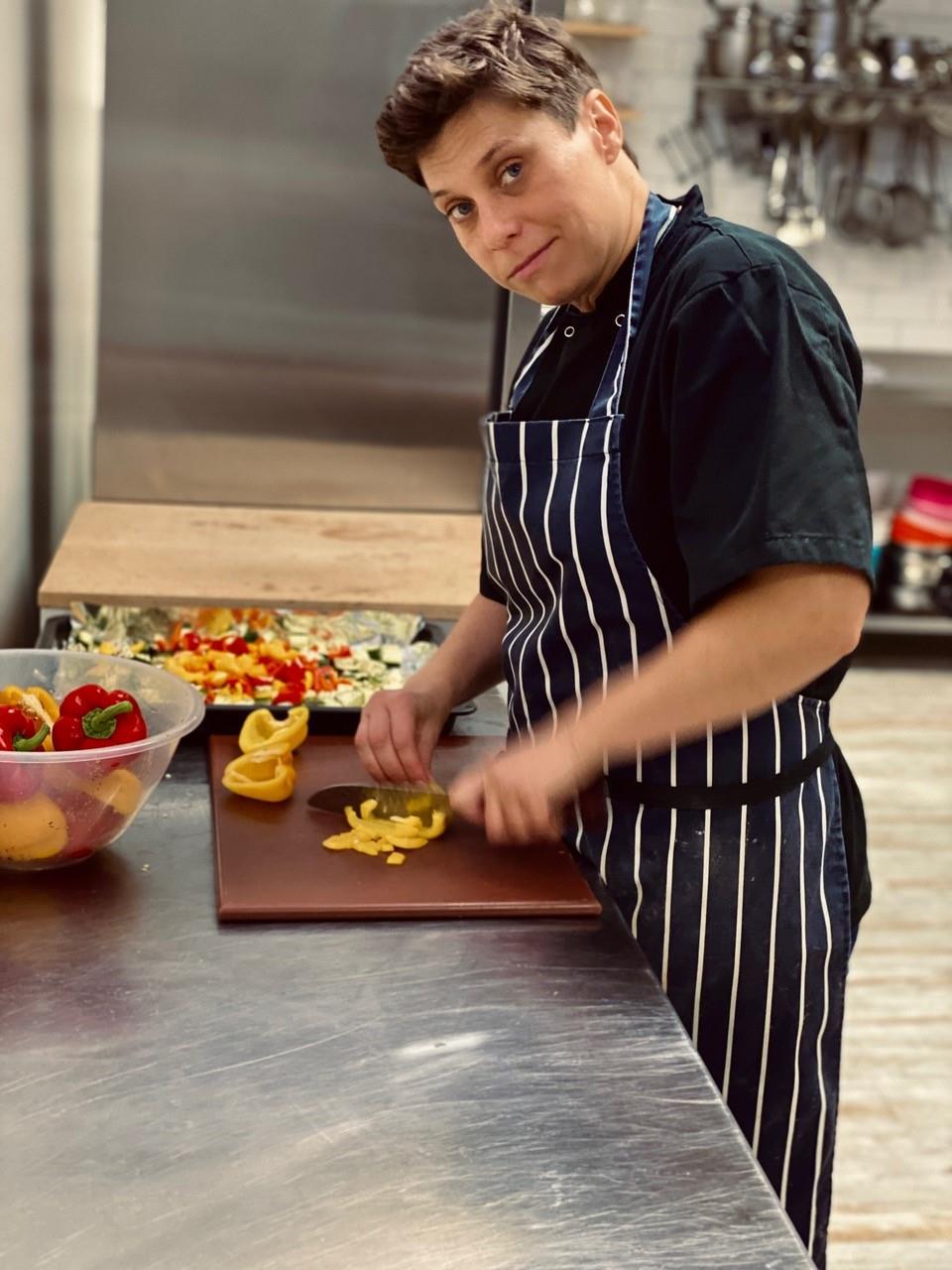 Juliet Kane, or as I know and love her, '
Jules the Foodie
' has been to many people in Chiswick (me included) a ray of delicious sunshine during this dreary lockdown. Jules is a Leith's trained chef who delivers the most scrumptious meals to us lucky Chiswick folk. The meal delivery service was born in the first lockdown as a response to pleas from friends and family asking Jules to cook them; They wanted something that they could easily heat in the oven whilst juggling homeschooling and working from home. Jules created a simple menu of fridge fillers in response, word soon got around, and Jules found the need to create a website and get some much-needed kitchen space!
Jules also creates bespoke meals; her Valentine's menu was a resounding success (the word in our house was the steak was out of this world!). So if it's a mid-week fridge fill you're after (I can vouch for the burritos!) or a 3-course meal for a special occasion - or just because! Jules the Foodie is your one-stop-shop.
www.julesthefoodie.com
@julesthefoodie1
Juliet Golz
Juliet Golz, the founder of
My Little Boarders
, launched her business in 2012 after realising working in TV with two small children wasn't giving her the work-life balance she wanted.
My Little Boarders teaches children to skateboard; the business's inspiration began when Juliet looked for an activity for her then 6-year-old son. She wanted something which would help build up his core strength and motor skills. At the time, he was quite shy and wasn't interested in team sports and skateboarding ticked all the boxes; it is a non-competitive sport and allows you to learn at your own pace without any pressure.
Juliet had grown her business to a point where they were running afterschool skateboarding lessons in 15 schools. They also ran private and group skate lessons, skateboarding parties and holiday camps. And then COVID hit, which, of course, has had a significant impact on Juliet's business. However, with wonderful parent communities, My Little Boarders has managed to keep its head above water, running private COVID secure sessions.
My Little Boarders is a Chiswick business operating all over London. If you have a child that isn't veering towards team sports (I do!) or fancy trying something a little less screen-related, goodness knows our children have had so much screen exposure during homeschooling. Try skateboarding; Juliet employs fun, enthusiastic, nurturing male AND female instructors because skateboarding truly is genderless.
www.mylittleboarders.co.uk
@mylittleboarders
These wonderful women have more than their name in common; both decided that Chiswick, with its beautiful parks and village feel, was the perfect place to settle and bring up their families.
We are still very much open for business
What a strange year it has been! But here at Whitman & Co, the year isn't over yet - with the 31st March stamp duty deadline looming we are still very busy. Any talk of the market slowing down for Christmas isn't being seen by us; we've been fully booked every Saturday since the beginning of June.

Flats which were slower to move earlier in the year, have started to shift. Of the 66 properties, we have agreed since early September; flats contributed to 45% of these. Which is in contrast to earlier in the year when we came out of the first lockdown, flats represented only 20% of our sales.

So is now the time to sell? Contrary to what you would think December isn't the wrong time to list your property. Rightmove inform us that Boxing Day is traditionally their busiest day of searches for the year, which we see when we return in January, with interest across all properties. With most people staying within their bubbles at home this Christmas, we anticipate even more interest than usual.

We have sold over 100 properties this year, which is 1 in 5 of all the properties sold in Chiswick. As the number one agent in Chiswick, we are in a position to offer the best advice to both sellers and buyers. Also, because of the volumes of sales we do, we have an in-depth understanding of pricing street by street and property by property. Which means our vendors get detailed market-leading advice on how to sell for the best possible price and buyers respect our valuations. We are aware that buyers often register with us exclusively because they understand that we price fairly and are likely to list the property they want to buy.

If you are considering selling your property, we would love to hear from you. We have demand in every price range from £400k- £4million, with a particular need for family homes priced between £1-3million. Please do get in touch on 02087478800.
Maximising the value of your home
Advice from Formed Architects
If you are currently trying to sell your home or let your property, you may be a bit apprehensive given the way the world has changed in light of Covid 19. You may question: 'Will I still get the same value for my property?' 'Will the cost of my property be impacted after the virus?' or 'How can I possibly think about selling my property now?' At Formed Architects, we believe that this is an opportunity to maximise the value of your home ready for the sales market when we do emerge out of the Covid 19 lockdown, putting yourself in a stronger market position.
There are many aspects to consider that may help to speed up the sale of your property, many of these with potentially very little investment on your part so that you can be in a position to make your property more attractive to potential buyers, including homeowners and those that may be looking at investment opportunities.
Here are a few things that you may want to explore:
Are there small cosmetic changes that may impact the value of the property?
Going beyond dressing the property, enhancing the kitchen, or moving to wall to give you an extra bedroom or potentially an en-suite may be an option for you. Small changes can make a difference for a potential buyer. Changes they would then not have to make themselves, especially when you consider those that were looking to buy this year may have had their timelines shifted in terms of when they had hoped to move in; whether it be September ready for the new school term or another key date that they may have been working towards.
Could your property benefit from an extension on ground or upper levels?
You do not necessarily have to undertake the works yourself, but it is worth looking at what possible changes could be made. Getting planning permission in place shows the vendor what the possibilities are and saves time for them going forward to execute upon purchase. The cost of this should be outweighed by the increased attractivity to the market, enabling a faster sale. An unconverted loft space, with formal permission in place for conversion, allows for the extra bedroom that a buyer might be looking for when buying your property.
If you have a larger home and are selling to downsize or upgrade but are worried about the impact of the market on the value of your home, you could consider getting permission to convert the house into flats. This would de-risk the property for potential investors and small developers looking for opportunities, widening the net of potential buyers whilst maximising the sale value. Planning departments are still working so it is possible to get relevant the paperwork in place in the interim.
If you are not looking to sell, but the current climate has impacted your income stream, you should look at your property when considering the options available to you. You can explore the possibilities of getting more from your existing home. If you have a larger garden or space on the side of your property, or even access from the rear, there may be scope to consider selling the plot with planning permission. Alternatively, you can seek permission and carry out the build to generate a passive income from the end of the garden. Understanding the constraints and what is possible in this instance is key if this is a strategy you want to explore. An early conversation is a useful way to see what options are available.
We understand that this pandemic has brought many challenges to the sales and rental market. Looking at creative solutions, including some of those listed above, will allow you to be in a better position to make the most out of your asset through this difficult time. With a little time and consideration, you can be ahead of the curve in maximising the value of your property.
We are here to discuss opportunities and able to facilitate discussions remotely so you can fully understand your options.
Contact Formed Architects today!
Tina Patel
Director
Architect BA Hons. Dip Arch. RIBA
tina@formedarchitects.com
020 3601 3480
07719 773161
formedarchitects.com
The Retail Sector
I have been observing retailing on the High Road, and Chiswick's other fabulous retail streets, from a different angle since I joined the commercial business at Whitman & Co a couple of months ago.
I thought I would write my first blog about the retail sector, as I have found it has been a dominant focus so far, with a string of enquiries - from all sorts of directions.
Backdrop
You only have to turn on the morning radio to hear of the woes facing the UK High Street. This is a national, even global, issue - as a result of the rise in online shopping and changes in habit. Last week Mothercare entered Administration, having already been through a Company Voluntary Agreement (CVA) that had been intended to have given them a lifeline. This week Clintons are also back in the news. Sadly, there will be more.
Chiswick is no different to many locations. It won't have escaped notice that there are a number of vacant shops locally, some of which have been unoccupied for quite a time. Are we watching a slow and inevitable decline in retailing? I don't think so - but we do need to act.
The debate is the same everywhere. Costs of doing retail business are rising (staff costs, insurance, technology, regulation, logistics, etc). Meanwhile, footfall and consumer spending in shops are falling, largely because of the growth in online retailing - the switch from "bricks' to clicks".
Against this backdrop, property occupancy costs (rent, rates, service charges) are often now too high. The inevitable impact is shop closures, either at lease-expiry, or occasionally, sadly, through insolvency.

What needs to happen to protect local retailing and encourage it to thrive?
Without new retailers (both chains and independents) coming and succeeding, and those already here thriving (and staying), there is of course risk that we find ourselves in the same steady downward-spiral as many other places.
We have been pleased to attract Hotel Chocolat to Chiswick High Road recently, but it is important that they do well. Other retailers are watching and waiting to follow -so long as rents are set correctly, and customer-spending is there.
We are blessed with a special retailing character in Chiswick, a healthy mix of independents and multiples, which we must surely protect?
Clearly, the bottom line is to spend more money in our local shops. Chiswick Locals, and great schemes like the Chiswick Calendar loyalty card are excellent in encouraging this. As we approach Christmas we can all do our bit, by avoiding online temptations and by shopping in local outlets.
Shops need customers to come, not just once but regularly, returning again and again. They need them to dwell, and spend.
Customers need variety and choice; of products, services, styles and price-points. We need places to eat, drink, socialise, laugh, excite, rest, recuperate. We need staples and amenities. We need luxuries. We need chains and we need independents.
Retailers must consistently deliver what customers want, with good service, and at the right price.
The retail environment must be safe and compelling. Access, transport and parking should be easy, the shopping environment clean and inviting.
Neighbouring areas in Hammersmith, Acton & Ealing have introduced Business Improvement Districts (BIDs) and recruited town centre managers to coordinate activity, but to date these discussions in Chiswick have not gained traction. There is no single dominant investor, nor retail focus group in Chiswick. Perhaps we need one?
In my view the fragmented nature of the retail property market here makes it a bit more difficult to attract new, interesting and entrepreneurial retailers to Chiswick. Whitman & Co Commercial recently attended a major retailing conference in Central London to do just that, and we intend to continue to build on the promotion of Chiswick as a place to do retail business in west London.
What more can we do?
We can all play a part in ensuring that Chiswick remains a vibrant retailing location. The property owning community (and advisors like Whitman & Co Commercial) are also central to this of course.
In these times of political manifestos I therefore thought I would set down my own pledges, to ensure I do my bit. As a real estate advisor, representing both landlords and tenants in Chiswick, I will:
Continuously promote Chiswick to the national retailer community.
Lobby through the Royal Institution of Chartered Surveyors (RICS) and other channels to bring about much-needed changes in the Business Rates regime.
Lobby planners to ensure planning policy (and individual planning applications) support a thriving high street.
Protect the streetscape by urging clients to keep vacant shops clean and attractive, with windows dressed or decorated where possible.
On a day-to-day basis, help ensure that the shopping environment is appealing, by personally reporting rubbish, litter, flooding from blocked drains, etc, that I see as I go about the area.
Ensure that, whether advising landlords or tenants, the lease terms agreed (rent, but also other terms) are realistic, ethical, equitable, affordable, and clear. (I have for many years been a representative on the RICS panel that produces the Code for Leasing Business Premises, which I hope is shortly to become mandatory for Chartered Surveyors - more next time perhaps).
Of course this is a fine line to tread, because the lease is a commercial contract, and there is often much at stake in the financial bargain between landlord and tenant. For the landlord, the property is often a pension, or a long term investment of hard-earned capital. For the tenant, the rent commitment can ultimately be the difference between success or failure, certainly when no other levers are left to be pulled. But we must be transparent and fair.
Finally, I have personally adopted a 'buy local first' policy. I will minimise online spend, and enjoy the excellent service and diverse offerings that Chiswick retail has to offer.
To conclude
In these challenging times for retailing everywhere, it is surely better to see a vibrant and fully-occupied High Road, Turnham Green Terrace, Devonshire Road & Acton Lane (as well as the many smaller clusters of shops around our lovely neighbourhood). Whitman & Co Commercial aim to do our part to encourage and facilitate this.
The most important advice, whether you're landlord or tenant, is to take professional property advice about commercial property situations, with Whitman & Co, or with other eminent local firms!

Jeremy Day FRICS
12th November 2019
From One Safe Pair of Hands to Another
We are thrilled to be in our second season of sponsoring the brilliant Chiswick Rugby Club Juniors.This relationship began one chilly Sunday morning when I turned up at the pitch with my slightly apprehensive son for his first rugby trial. The community spirit was palpable; the coaches warm but no-nonsense approach had the children engaged and focused in no time at all. On the side lines, the many familiar faces, as is the way in this large village we call Chiswick, were warming hands and souls with hot cups of coffee, not to mention the bacon butties which were soothing a later than planned night before!

After each session the children are brought together to celebrate their teammates achievements, not only to celebrate the player of the morning but also to see who will be awarded the all-important TREDS cup. The cup is given to the player who displayed the key core values: Teamwork, respect, enjoyment, discipline, sportsmanship. After much applause the children rumble into line for a well-deserved hot dog.

From that morning I knew CRFC was a club Whitman & Co should support. Its character and community vibe reflect our values totally. We're incredibly proud to be sponsoring the Junior shirts; long may this relationship continue. Unfortunately, my sons Rugby career was short lived, but my daughter is nearly the right age… I can almost taste the bacon butty..